St. Louis Forest Park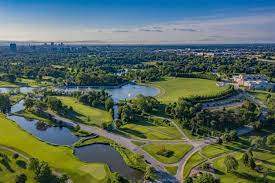 General Information
Allow Children? Yes children are allowed
Allow Smoking? Yes smoking is allowed
Allow pets? Yes well behaved dogs are allowed
Is there Parking? We are sorry there is no customer parking
Are there Handicap Facilities? Yes there are Handicap Facilities
Enquire about this Attraction
Name of Attraction = St. Louis Forest Park
Type of Attraction = Park
Directions = See Map
Summary = St. Louis Forest Park is the largest urban park in the United States, offering visitors a wide range of recreational opportunities. The park is home to several attractions, including the St. Louis Zoo, the Missouri History Museum, and the Muny, the nation's oldest and largest outdoor musical theater.

The park also offers a variety of outdoor activities, such as biking, walking, and jogging trails, fishing, and picnicking. Visitors can also explore the park's many gardens, including the Japanese Garden, the Climatron, and the Missouri Botanical Garden.

For those looking to relax, Forest Park has plenty of spots to sit and enjoy the natural beauty of the park. Whether you're looking to take in the view from the Grand Basin, or have a picnic at Art Hill, there are plenty of places to enjoy the day in St. Louis Forest Park.

For those looking for more adventure, the park also offers a variety of recreational activities, such as golf courses, tennis courts, and paddle boats. No matter what type of activity you're looking for, you're sure to find something to do in St. Louis Forest Park.

The Park is also close to accommodation from Lehmann House Bed and Breakfast.
Location
Booking Information
Opening Time = 08:00AM
Closing Time = 22:00PM
Adult Price = Free
Children Price = Free
OAP Price = Free
Book Accommodation
Click on the button below to reserve your accommodation