Welcome! And we hope you enjoy your stay!
About Us At Lehmann House
Hello and thank you for visiting my website. My name is Marie Davies. I have been a bed and breakfast specialist, in St. Louis, since August 1989. Prior to that, I was a chemist. I welcome people from all over the world, helping them to discover all that St. Louis has to offer and, being "in the center of things to do", we are ideally located in Lafayette Square, St. Louis' oldest historic district.
When I first learned about bed and breakfasts in 1982, I remember thinking "What a great combination of cooking, entertaining and living in a Victorian house!" But being newly graduated from college, I wasn't ready to trade my hard earned degree in chemistry for the completely unknown territory of hospitality.
In May 1987, I got to stay in my first bed and breakfast. The place was dreadful, the innkeeper was rude and she wouldn't serve me tea, only coffee. I left breakfast each morning thinking, "I could do this so much better."
Two years later, in August of 1989, after quitting my career as a chemist to stay home with our first of five babies, I opened the doors of my first bed and breakfast, Parkside Cottage Bed & Breakfast. A few years later, after outgrowing the house both with family and business, we bought our current site and reopened as Lehmann House Bed & Breakfast in July 1993, selling the first site as a private home.
Lehmann House is the longest running bed and breakfast in the St. Louis area, with me as the original, ongoing owner. It's home to myself and it's where our kids grew up and now come home to gather on special occasions.
Marie Davies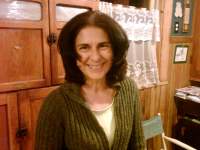 'Thank you for your warm and generous hospitality. You've made our stay here most delightful!' . . .Lynn & Jimmie, Decatur, TX
Click this button to download our free guide, The Best Kept Secrets in St. Louis
ABOUT THE HOUSE
By the mid-1860's, Lafayette Square had become the most prestigious residential area in St. Louis. In 1866, Benton Place, the oldest private street in St. Louis, was established and named for the Missouri senator, Thomas Hart Benton, grandfather of the artist of the same name. The home known as #10 Benton Place was originally built for Edward S. Rowse in 1893, a wealthy financier, real estate developer, banker and developer of Benton Place. However, the second owners, Frederick and Nora Lehmann, were the most notable.
Frederick Lehmann was a nationally known lawyer with a long list of both professional and philanthropic accomplishments. The Lehmanns resided at #10 Benton Place for 31 years, beginning in 1898 as the second owners. After his death, it passed through many hands and was in a sad state of disrepair and neglect when we rescued it in 1992, almost 100 years to the day, after the original building permit was issued for the construction of the house. Many hours have gone into the restoration of this 20+ room, 10,000 square foot Romanesque Revival mansion, returning it to its original splendor. It is the largest home in Lafayette Square, now known as Lehmann House Bed & Breakfast. We are proud to call Lehmann House our home.
Some recent renovations include adding new guest rooms: Frederick's Room, the Judge Sears Room and the Joon Stark Room. There has been fresh redecorating throughout the house, along with restoration of many of the unique original Victorian details damaged or missing by prior owners. Evidence of the careful restoration of the oak, maple and cherry woodwork can be seen throughout the house.
Lehmann House is located "in the center of things to do" in St. Louis. Lafayette Square, St. Louis' premier historic district, has many fine restaurants and unique shops. Favorite attractions such as the St. Louis Gateway Arch, the St. Louis Cardinals at Busch Stadium, Laclede's Landing, the St. Louis America's Center Convention Center are less than two miles away. The St. Louis Zoo, the St. Louis Art Museum, the renowned St. Louis Symphony at Powell Symphony Hall, the Missouri Botanical Gardens, and many other attractions are also very close by. I can assist you in planning your activities, or recommending the best St. Louis cuisine or where the nearest Walgreen's or target might be for those forgotten items you forgot to pack.
Frequently Asked Questions
Do You Offer Whole House Rentals?
Groups can rent all of our rooms to ensure only theor party are guests here. Because we live on site, and have parts of the house which are private, the whole house not included in the rental. This would restrict the use of the kitchen to our private rooms. You would just have access to the guest rooms and common areas.
Are Open All year Long? During Major Holidays?
We are open all year long, though we may close for various events. We typically are open on most major holidays. Check our calendar for availability.
We currently do not take pets of any kind. To be compliant with the City of St. Louis, this would require a kennel license which we do not have at this time.