Find Us
Lehmann House Bed and Breakfast
In the center of things to do in Saint Louis
10 Benton Place,
Saint Louis, Missouri 63104
United States
(314) 422=1483
Parking: Read More
Please note that Benton Place is a private street and parking is restricted to street parking in front of each homeowner's property. Having six lots, it's enough space to accommodate one car per room if everyone parks thoughtfully. Please be sure to park in front of Lehmann House vs. another homeowner's home to ensure they have enough room to park their own vehicles. Should you park in front of another homeowner's property, I will have to ask you to move your car or you will risk being ticketed.
My property is the only section on the right side of the street without a white stone retaining wall in front, along the sidewalk. You may use any portion of the street in front of my property.
NOTE: If both guests in one room will be arriving in two separate cars, please call ahead to make sure there will be adequate parking for both your cars. If not, one car will be required to park around the corner on Park Avenue, which is unlimited public parking.
You can view this on Google Maps above. Click on the image and pan along the street to view. Again there is plenty of space for up to eight cars. Both my neighbors and I appreciate your cooperation in this regard.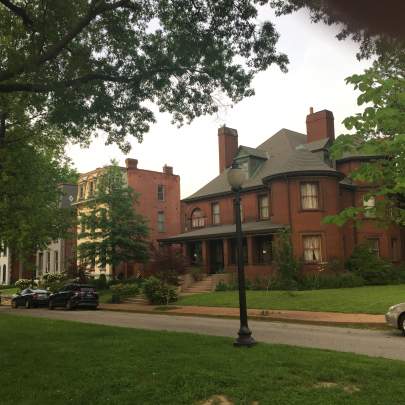 Directions:
I-64 From the West:
Take I-64 east to the Jefferson Avenue Exit.
Turn RIGHT onto Jefferson to Park
Turn LEFT onto Park to Benton Place
Turn LEFT onto Benton Place (Lafayette Park will be on the right)
I-44 From the West:
Take I-44 east to the Jefferson Avenue exit
Turn LEFT onto Jefferson Avenue
Turn RIGHT onto Park to Benton Place
Turn LEFT onto Benton Place (Lafayette Park will be on the right)
I-55 From the South:
Take I-55 north to the Truman Parkway/Lafayette Avenue exit (this will be the "straight" option vs. left or right forks)
Continue NORTH/STRAIGHT on Truman Parkway to Park Avenue (one block)
Turn LEFT onto Park Avenue to Benton Place
Turn RIGHT onto Benton Place