Ruth Park Golf Course St.Louis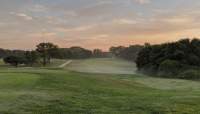 General Information
Allow Children? Yes children are allowed
Allow Smoking? Yes smoking is allowed
Allow pets? We are sorry pets are not allowed
Is there Parking? Yes there is customer parking
Are there Handicap Facilities? Yes there are Handicap Facilities
Enquire about this Attraction
+1 314 727 4800
Name of Attraction = Ruth Park Golf Course St.Louis
Type of Attraction = Golf Club
Directions = See Map
Summary = Ruth Park Golf Club is a public golf course located in St Louis, Missouri. The course is situated on beautiful, rolling terrain and offers a challenging yet enjoyable round of golf for players of all skill levels.

The course features 18 holes with a par of 71. It measures 6,659 yards from the back tees and has a course rating of 71.7 and a slope rating of 120. The fairways are wide and forgiving, with strategically placed bunkers and water hazards to keep you on your toes.

In addition to the course, Ruth Park Golf Club also offers a full-service pro shop, practice facilities, and a restaurant and bar. The pro shop carries a wide selection of golf equipment and apparel, and the practice facilities include a driving range and putting green. The restaurant and bar offer a variety of food and drink options, as well as a comfortable place to relax after your round.

Overall, Ruth Park Golf Club is a great choice for anyone looking to play a round of golf in the St Louis area. With its beautiful scenery, challenging course, and excellent amenities, it's no wonder why it's a popular destination for both locals and visitors alike.

The Golf club is a short drive from Lehmann House Bed and Breakfast.
Location
Booking Information
Opening Time = Contact Venue
Closing Time = Contact Venue
Adult Price = Contact Venue
Children Price = Contact Venue
OAP Price = Contact Venue
Book Accommodation
Click on the button below to reserve your accommodation