The St. Louis Art Museum
Thursday, February 21, 2019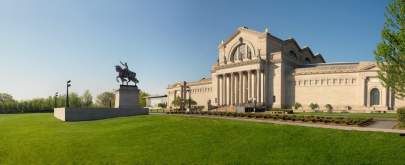 "St. Louis has so much to offer" sounds trite to say but it does. One of our iconic gems is the St. Louis Art Museum (SLAM), located in Forest Park, on the western edge of the city.
Though originally established in 1879, SLAM moved into the "Palace of the Fine Arts" building, built for the 1904 Worlds' Fair, later that same year. It's regarded as one of the principal U.S. art museums, displaying paintings, sculptures, cultural objects, and ancient masterpieces from all corners of the world. A favorite of mine-and my kids—are the mummies in the Egyptian section.
If all of this impresses you, one last detail is always appreciated by my guests. Where admission to similar quality museums anywhere else in the world would cost $20-$40, our SLAM is free.
Yes! FREE! Your admission is covered by a portion of the property tax we pay to the city. And we are happy to have it that way so you can enjoy what we've all grown up with.
Fascinated yet? What exhibits are coming up this spring? Some current and upcoming exhibits include the following. Note: Though admission to the main museum still remains free, some special exhibits may have an admission charge—well worth it!
"The Printing Abstraction" exhibit runs through March 31st. I will admit, I like traditional art best, but I did enjoy this exhibit. It's worth a pop into it while you're there.
The Art in Bloom exhibit kicks off March 1st. There are three events included in the month long exhibit, some free, some with an admission charge: Remcos World of Flowers of Art and Events Design, Flowers in Three Acts , and [Seasonal Flower Arranging. I've been a few times over the last few years and still love going back! The first two events are March 1st and the other, March 2nd.
"Southwest Weavings: 800 Years of Artistic Exchange" is an exhibit I loved! I love seeing the textile arts celebrated. The SLAM does this well. Too often we think of art as just paintings and sculptures. This exhibit runs through May 5th. It's a must see.
There's more—so much more. Plan to spend a whole morning or afternoon walking through the museum—and even then, you won't see it all. To plan your time well while you're here, check out the St. Louis Art Museum web site-- CLICK HERE.
Enjoy!