The Day the Roof Crashed In
A lot of renovations went on in the first year, but the absolute first thing to tackle was the leaking roof. No matter how beautiful the inside would be, once restored, if the roof leaked it would all be for nothing.
Once the roofing company was secured, we let them loose, starting at the front of the house, with the turret. They worked their way down the south side, ripping off the shingles to reveal the sheathing below. Much of that had to come off as well and made watertight. Before long, they were round the corner to tackle the back of the house when I heard a crash and a few screams. A mad dash outside revealed where there had been two roofers, there was now one.
After another mad dash up to the 3rd floor, I found the second roofer in a heap of roof rubble, having crashed through the roof and into the house! How?!?!
After some time, knocking out all of the plaster in the area, the culprit was revealed--a major support beam, spanning from the roof down through the floor of the 3rd floor was rotted out about 4' up from the floor, likely from many years of water damage!
What a mess!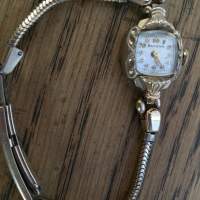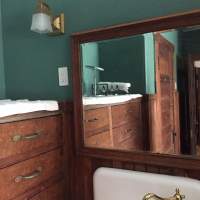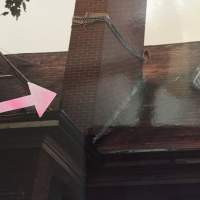 Time to clean up! As I picked up a shovel to scoop the plaster into buckets, I saw the morning sun glinting off something shiny. A close inspection revealed a 14K gold ladies Bulova watch in the rubble, lying between two studs, on the opposite side—directly opposite—of Frederick's Room's bathroom! I measured the distance from where the watch was found to the corner of the room. I took that measure to see where it would fall in the bathroom. The likely scenario became clear. A woman, about to use the sink to wash up, takes off her watch and sets it on top of the cupboard to the left of the sink. Somehow, the watch falls into the crevice between the cupboard and the wall to be lost inside, between the two studs, until we came along many decades later, one year to the day after buying the house! Another souvenir. . . or gift . . . from the house!
Would you like more stories, more history, to see for yourself? Did you know we do tours of Lehmann House again? If you'd like more information, simply CLICK HERE