Welcome to our Blog
St Louis Marathon 2023
Share this page: Facebook LinkedIn Pinterest Twitter
The St Louis Marathon is an annual race that takes place in St Louis, Missouri, USA. It is a 26.2-mile race that attracts thousands of runners from all over the world. The race typically takes place in April and starts and ends at the Gateway Arch.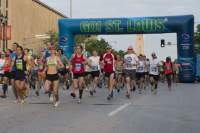 The course of the St Louis Marathon is a scenic route that takes runners through some of the most beautiful parts of the city. The course includes views of the Mississippi River, historic neighborhoods, and iconic landmarks such as the Anheuser-Busch brewery and Forest Park.
The St Louis Marathon offers a variety of race options, including a full marathon, a half marathon, and a 5K. The race is open to runners of all abilities and ages, and there are wheelchair divisions for the full and half marathon.
In addition to the race, the St Louis Marathon weekend also includes a Health and Fitness Expo, where runners can pick up their race packets and browse vendor booths. The expo features a variety of health and fitness-related exhibitors, as well as guest speakers and seminars.
Overall, the St Louis Marathon is a must-run race for any avid runner or fitness enthusiast. Its beautiful course, welcoming atmosphere, and well-organized race experience make it a standout event in the running world.
Competing or spectating, Lehmann House B&B is the best place to stay.
Add comment