Welcome to our Blog
St. Louis Lambert International Airport
Share this page: Facebook LinkedIn Pinterest Twitter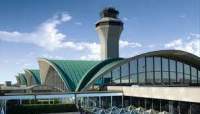 Lambert International Airport is a significant airport for the St. Louis region. It has a long history and has undergone several changes and renovations. The airport has four terminals, with Terminal 1 being the largest and most recently renovated. It offers a range of services and amenities for travelers, including numerous dining and shopping options, free Wi-Fi throughout the airport, and on-site parking.
Lambert International Airport is a major hub for Southwest Airlines and a focus city for both American Airlines and Delta Air Lines. It offers non-stop flights to more than 80 destinations throughout the United States, Canada, and Mexico. The airport is known for its excellent connectivity, making it a popular choice for travelers in the region.
If you are travelling to St Louis you may want to consider staying at Lehmann House Bed and breakfast.
The airport is named in honor of Albert Bond Lambert, an Olympic medalist, and prominent St. Louis businessman. The airport serves over 15 million passengers annually, making it the largest and busiest airport in Missouri. It is conveniently located just 14 miles northwest of downtown St. Louis, making it easily accessible by car, taxi, or public transportation.
Add comment