Welcome to our Blog
Gateway Outdoor Expo 2023
Share this page: Facebook LinkedIn Pinterest Twitter
The Gateway Outdoor Expo is an annual event that showcases the latest and greatest in outdoor gear, activities, and technology. The 2023 Gateway Outdoor Expo will take place in St. Louis, Missouri, and is expected to be the biggest and best event yet.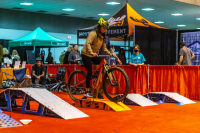 Attendees can expect to see a wide variety of vendors, from outdoor gear manufacturers to adventure travel companies. In addition, there will be plenty of opportunities to try out new activities, such as rock climbing, kayaking, and camping.
The Gateway Outdoor Expo is not just for outdoor enthusiasts, however. Families with children will find plenty of kid-friendly activities, including a rock wall and a bounce house. And for those who prefer a more relaxed atmosphere, there will be live music, food and drink vendors, and much more.
The 2023 Gateway Outdoor Expo promises to be an exciting event for all ages and interests. Be sure to mark your calendars and come out to St. Louis to experience the best in outdoor adventure and fun!
A great day out when staying at Lehmann House Bed and Breakfast.
Add comment