Welcome to our Blog
Everything to Know About the Sheldon Theater
Share this page: Facebook LinkedIn Pinterest Twitter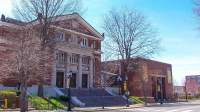 St. Louis is known for its rich cultural scene. One of the best places to experience this in action is the Sheldon Theater, located in the Grand Center in Midtown, St. Louis.
The Sheldon Concert Hall is a beautiful and intimate venue that is perfect for a variety of performances. Guests can see live jazz, classical music, interpretive dance, theater, comedy, and educational performances. They also offer workshops for students of all ages.
There's lots to see at the Sheldon. When you're visiting St. Louis, it's a go-to spot for music and shows.
What is the Sheldon Theater
The Sheldon Theater is a famous St. Louis, Missouri, concert hall and art gallery. Designed by Louis C. Spiering, one of the 1904 World's Fair premier architects, the Theater was built in 1912 as the home of the Ethical Society of St. Louis.
In 1964, the Ethical Society moved to St. Louis County, and the Sheldon changed ownership several times over the next two decades. Faced with imminent demolition, Walter F Gunn restored the building and founded it as the non-profit Sheldon Arts Foundation in 1988.
Since then, the Sheldon Theater has been a powerhouse of performances, featuring artists such as:
Wynton Marsalis
Herbie Hancock
Willie Nelson
B.B. King
Jose Carreras
In addition to jazz and classical music, the Sheldon regularly hosts various performances for audiences of all ages.
Where is Sheldon Theater and What Are its Hours?
The Sheldon is located at 3648 Washington Boulevard, St Louis, Missouri, 63108, in the Midtown neighborhood.
The main building is open from 9:00a-5:00p, Mondays through Fridays, and 10:00a-4:00p on Saturdays. Art gallery exhibits are open from Wednesday to Friday, 12:00n to 5:00p, and 10:00a-2:00p on Saturdays.
Concert hours vary depending on the event, but they usually start between 5:00p-7:30p and typically last two to three hours. You can purchase tickets on the Sheldon Website.
Known as the "Carnegie Hall of the Midwest," the Theater features over 700 original curved wood seats on two levels.
What Kinds of Performances Can I See at the Theater?
The Sheldon Theater hosts an eclectic and colorful array of performances to see and enjoy. While the main focus is classical music and jazz, additional performing features of the theater include:
Music
Blues
Country
Chorale
Gospel and Rhythm and Blues
Holiday
Pop and Indie
Ragtime
Rock
Soul
Swing
Interpretive Dance
Theater Performances and Drama
Cabaret
Chamber Music
Opera
Comedy Routines
Stand Up
Improv
Spoken Word
Educational Performances and
Workshops
Music Education
Literature Education
Art Galleries
There really is something for everyone at the Sheldon Theater. When you're planning your visit to St. Louis, check out the vast array of performances available and pick the best one for you. Lehmann House Bed & Breakfast isjust a five minute drive from the Theater.
Book a Stay at Lehmann House for Your Next Visit to the Sheldon
When you're planning your visit to St. Louis, the Sheldon Theater is one of the best and most affordable venues to check out. Be sure to check out Lehmann House Bed and Breakfast. We're just 2.7 miles from the Theater and nestled in Lafayette Square, an idyllic neighborhood in the heart of St. Louis. We're a short distance from many local amenities and tourist attractions, in addition to the Sheldon.
Be sure to CONTACT US for more information or BOOK NOW to get started right away. We look forward to hearing from you!
Written by Creative Copywriter Chris Davies
Add comment