Welcome to our Blog
B.A.R.K. Ranger Photo Content
Share this page: Facebook LinkedIn Pinterest Twitter
The B.A.R.K. Ranger Photo Content is an event that encourages visitors to national parks to take photos of their dogs enjoying the park and share them on social media with the hashtag #BarkRanger. The St Louis event will take place throughout April 2023 at Forest Park.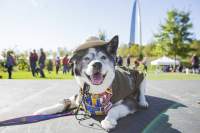 Participants are required to register their dogs before participating in the event. Registration can be done online or at the park on the day of the event.
The event will include a photo booth, where participants can take photos with their dogs, as well as a dog-friendly obstacle course. Prizes will be awarded for the best photos shared on social media during the event.
We encourage all dog owners to participate in the B.A.R.K. Ranger Photo Content and help spread awareness about responsible pet ownership in national parks.
A fun site watching our furry friends and a great day out for the family when staying at Lehmann House B&B.
Add comment